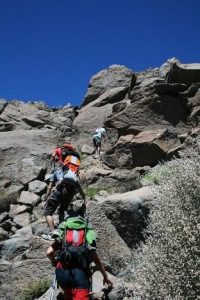 Mental illness and addiction co-occur more than some people may think. People with a mental illness are more likely to abuse substances while those with addictions are likely to either develop the symptoms of a mental illness or a full-blown mental illness. If there is someone in your life struggling with these two problems here are a few ways you can help them.
Get Them Help
Your first priority in helping your loved one is to seek out professional help. If left untreated, both addictions and mental illnesses can only grow worse as time passes and, while their support network helps, they cannot replace the aid a therapist or rehab program offers. There are many different forms of therapy, meaning there is something out there for everyone.
Talk to your loved one about some of the programs you think they would benefit from, enjoy, and be able to afford. You may find it challenging to convince them to get help at first, but don't give up. They will be grateful when their life is back on track and their illness and addiction are under control.
Become an Exercise Partner
Once you have secured professional help for your loved one, you can turn your focus to making their daily life better. Exercise is one of the most effective things a person can do on their own to battle the symptoms of a mental illness and, in turn, an addiction.
Many mental health issues cause a person to lose the motivation necessary to engage in positive activities. By becoming an exercise partner, you can help ensure that they are doing what the need to do to stay healthy.
Plan Fun, Substance-Free Activities
Many people recovering from addiction find that substance-free activities are difficult to come by. Alcohol is often present, and the people in attendance may not know of your loved one's recovery efforts.
Instead, take a little time to find fun, sober activities. This will not only prevent your loved one from believing sober life is boring, but it will also teach them what things they can do that will not make recovery harder. Some good examples of enjoyable and enriching activities include hiking, visiting a museum, or taking art classes.
Be Open and Understanding
Discussing a sensitive topic like mental health and substance abuse can be uncomfortable. However, it is very important that your loved one does not feel as though they need to be ashamed of their struggles. Listen to their thoughts and feelings as calmly and judgment-free as possible. Simply knowing they can talk when they need to can do your loved one a world of good.
Helping a loved one through mental illness and addiction is not easy. However, it becomes easier with the help of a trained professional. Be sure that your first step is to get them help. From there, you will be able to encourage beneficial activities such as exercising, eating well, and being more open about their thoughts, feelings, and issues. Even when things seem tough, remember that your love and support is doing them good whether they realize it or not.
By: Jennifer McGregor
Image via Pixabay by Erdmann-Crew