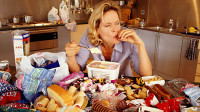 Individuals facing stress, anxiety, or depression will sometimes fall prey to eating disorders. While anorexia and bulimia have received a lot of attention, one of the most prevalent eating disorders is binge-eating disorder. Binge-eating disorder can be detrimental to both a healthy mental and physical state.
A man who suffered from binge-eating disorder shared his story with the New York Times. After starting a new job, this man was full of anxiety and was extremely unhappy with his professional and social life. He used food as a way to find comfort in his unhappiness.
After gaining weight, he started numerous diets, but each time he ended up going back to his old eating ways. In order to control himself, he stopped eating during the day and would only eat out of sight at night. At night, he would have over 3,000 calories at once and eat unhealthy foods to get a sweet and salty fix.
This man consumed so much that he gained almost a third of his body weight. The burden was so great he became suicidal. He called a psychologist to help with the problem. Together, they found an eating plan where he ate all three meals during the day with a healthy snack. This regiment caused him to return to drop weight month to month.
He learned other strategies to cope with anxiety and depression that were non-food related and is now much happier.
Binge-eating is an addiction, and individuals who are facing a difficult time in their lives will often turn to food for solace. Cognitive therapy works to help these people develop a healthier relationship with food and their response to disarray in their lives. Therapists help clients create better eating habits and eliminate thoughts like "I have already messed up, so I might as well eat more."
When individuals regain control of their eating, they are much happier.  Binge-eating disorder is becoming more and more common. If you find you need help creating positive eating habits, cognitive behavioral therapy is a great way to get back on track. For more information about this man's story, visit this website.