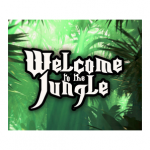 Welcome to the Jungle is a nice addition to the large list of bipolar self help books.
Hillary Smith has written a book for the young person dealing with a new diagnosis. The information is up to date, but the tone is informal, and respectful of the mix of feelings that many people have facing a new diagnosis of bipolar disorder.
I particularly like the sections on self management and dealing with other people.
"Can't I just take my meds?" she asks, rhetorically, and then gives a very good summary of the evidence that doing that will short change many people with bipolar depression.
In the second section she writes –
"People can say what they want; rules about when and how to kiss someone (or tell them you're bipolar) are meaningless. What really matters is the spirit in which you do it… if you're squeamish and tip-toe around the subject, you'll burden it with unnecessary secrecy and anxiety. If you're up-front and casual about it , you'll establish that it's cool to talk about."
A useful way of thinking about a difficult topic.
Welcome to the Jungle: Everything You Ever Wanted to Know About Bipolar but Were to Freaked Out to Ask. Hilary Smith.