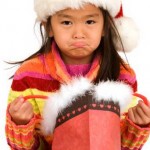 This will be a sad Christmas or some of those reading this post. You should not feel alone. I think that all of us can recall past Christmases there were disappointing or sad. We pass over these memories quickly sometimes. It's not okay to be sad at Christmas time. Exactly how that should work, how it is that we should not experience the same feeling I on December 25 that were having on December 24 is a little bit unclear. It's like the injunction that many of us have heard to "snap out of it."
But there's no instruction manual for snapping out of it. I suppose just something that you're supposed to be able to do, although none of us really manage it well.
It might be good "if we" recognize that there are times that are disappointing or sad for many reasons that we don't have to be happy or married just because it's Christmas.
One of our regular readers talked about her low expectations for Christmas.
Somehow that didn't seem right, is it okay to have low expectations for Christmas, shouldn't we strive for something wonderful?
But that got me thinking about how there were times and Christmases when nothing seemed to make a difference. And wouldn't it be nice to not have to add the expectation that Christmas will be wonderful on to the already troubling recognition that this Christmas will not be all that wonderful.
So for all of you who are feeling sad this Christmas I hope that you don't get fooled into thinking that all of us are happy and that you're the only one who is not. You will have lots of company. And I will be thinking of you.